Another step forward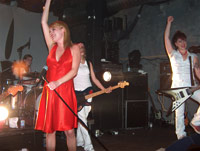 Sidespranget, Geilo – Wednesday, March 19, 2003
Photo: Daniel Ingulfsen (Blå, 2003)
Opening in a crescendo of noise that eventually reveals the brooding Right On Time, and followed in similar fashion with Leave, the years spent honing and crafting their sound is beginning to pay dividends, as this five-piece from Bergen display an air of confidence that belies their recorded output.
Despite the melancholic nature of the aforementioned songs and low attendance of this evening's crowd, nothing is going to distract from the upbeat mood clearly on display. Armed with an extra member adding splashes of percussion and samples that proves a vital ingredient to the indie guitar-rock of Furia's sound, songs ebb and flow with a bristling energy often dispelling the vulnerability littered throughout their debut album, …And Then We Married The World. In fact, this proves Furia's trump card as an occasional self-mocking Stine Kobbeltvedt pulls a smile out of the abyss during the introspective revelations of Blame, revealing a sense of humour best realised with the closing yet brief rendition of Wham!'s, Last Christmas.
Dynamic
With lyrics detailing a succession of broken relationships, insecurities and fears, the dynamism of Kirsti Kobbeltvedt and Solvor Hunshamar bring the guitars to the fore, bobbing and weaving throughout with arms cartwheeling through the air in contrast with the more aloof yet equally compelling May Britt Vik on bass. This epitome of cool is backed with Furia's very own Dave Grohl in the form of Agathe Kleppe providing the spine and rhythmic beats of the band's songs.
Surprisingly though, it is Furia's earlier work – one song in particular, Low proving to be the highlight of this set as it reveals a darker and more weighty sound that earmarks the band's early foundations. Elsewhere, a rather lacklustre Too Close misses the mark but is soon rescued by the rising temperature of Moonchild that shudders to quite dramatic effect, paving the way for an exuberant Superlove Vibrations that is reminiscent of Throwing Muses before Tanya Donelly decided to jump ship.
The fervour that greets the departing bow from Furia provides a reassuring comfort that laying siege to the world is a good idea after all, especially when armed with such bittersweet songs that no doubt will be claiming more hearts in the coming months.